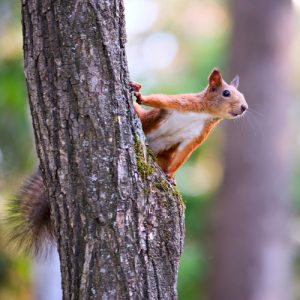 If you know me, you know I love Disney-Pixar's "UP".  It's a story of an old man and young boy that bond over an expedition they'll never forget.  (Insert obligatory "I work for Disney…" message here.)
Accompanying the two on their travels is a dog, named Dug, that can speak.
Thanks to a special collar, but that's another story entirely.
In the film we see that dogs are extremely loving animals, but have a major personality flaw.  They are very easily distracted.  Did someone say "squirrel"?
As funny as that image may be, I feel like marketers have a bit of Dug's squirrel syndrome.  In fact, we even have an official name for it: "Shiny Object Syndrome"
There are over 500,000 apps in Apple's App Store, 1 billion tweets sent each week, 48 hours of video uploaded to YouTube a day, and several pitches of the "next big thing in social" sitting in your inbox.
Signal to Noise Ratio
So what are we to do?
It all comes down to signal vs. noise ratio.  Although it's easy to allow the noise to overwhelm us and send us down various paths on wild goose chases.
We need to simplify.
Focus on the bigger trends and how major shifts in consumer behavior are shaping the world around us.
Thankfully, there is help. Sites like SocialFresh.com, companies like Edelman Digital, and people like Jeremiah Owyang weed through the digital fodder and help illuminate some of the bigger stories of the day.
Change is constant. So instead of reading through those 300 tweets you missed out on while in a meeting, let's go through some steps to improve your signal and reduce the noise.
I've put together a handy list below of 5 steps to avoid the pitfalls of shiny object syndrome in marketing.
1. Set up the right filters
Who are you following on Twitter, Google+, blogs, etc?
Are they trendsetters, thought leaders, and news makers?
Be smart and focus your "subscribed to" list up front and it will pay dividends in the long run.  I follow a little less than 400 people on Twitter. In addition to friends, there are several dozen thought leaders I follow that bring the news to me.
Curation is one of the big trends we will continue see more of in 2012.  Twitter, Pinterest, Tumblr, Fab and other sites are not simply publishing platforms.  They're social interest engines that allow you to discover new items from your trusted friends.  That's a very powerful thing. But very easy to get carried away with.
Find the channels you get the most value from and form smaller focused lists on those channels.
2. Listen to the crowd
With any new app, you'll always have geeks & power users flocking to be among the first to take it for a test spin.
Take the stock exchange of people, Empire Avenue, for example. Although a small group of obsessive compulsive social fan boys jumped on the site early on, it never gained any real traction.
People vote with their time, activity, subscriptions, and overall use of sites and apps. No matter how flashy the site, if it fails to gain a significant user base, its not worth your time.
3. Beware of the hype engine
Techcrunch, Mashable, TNW, and others are all great sites for keeping tabs on the latest tech news.  But "76 Stories in Social Media You May Have Missed", seems a bit much to me.  Hype has become a sort of currency. Don't buy it. One story on the latest SoLoMo app on Mashable is not reason enough to shift your entire digital marketing mix.
4. Test It For Yourself
Scientists are really smart.  They realize the need to test, retest, and then test some more.
As marketers, we should do the same.
You, or someone on your team, should be constantly playing and experimenting with the latest and greatest gadgets.  In other words, if the only social media apps I use personally are Facebook and Twitter then how can I have an opinion as to how a business might use tools like Tumblr, Google+, Foursquare, Flipboard, Shazam, etc.
5. Let Logic Be Your Guide
A tid bit of wisdom my leader shared with me the first week in my new role was when in doubt "Let logic be your guide." In other words, if it sounds too good to be true, it probably is.
But if it just feels right, go for it.
Sounds a bit ambiguous, but the first time you posted a photo to Instagram you somehow instantly knew it was going to change the photo app landscape.
—-
What about you?  How do you stay on top of the latest trends in Social Media and separate the digital wheat from the the chaff?
Image source: Shutterstock.com