The answer is complicated. And Meta thinks they have a plan.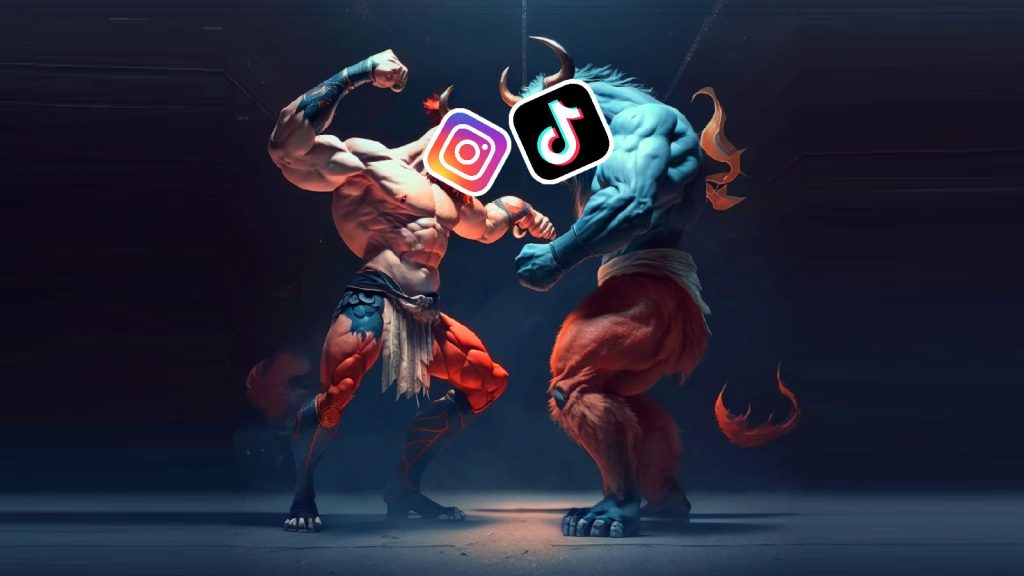 If social media were a person, it would be graduating college soon and looking for a job. Actually, social media would skip college, become a creator on TikTok or Instagram, and launch their own fashion or beauty line.
Short-form video, and more specifically TikTok, is now culture. Humans spend more time engaging with TikToks, Reels, and YouTube Shorts than all other social media formats combined.
Short-form video isn't so easy for every business, or marketing team, to master. It's why we're building a dedicated TikTok Marketing Course for Business. When we look at the engagement numbers, it's clear this growing medium is worth investing in.
The question is, who will win the fight between TikTok and Instagram? Where should you focus your resources?

TikTok's Rise
You might guess that TikTok is winning. And there's plenty of evidence there. A few key stats…
TikTok average watch time surpassed YouTube in 2021 (US)
25% of all phone time is spent watching TikTok videos (US)
TikTok got to 1 billion monthly active users in a few years
TikTok focuses on one product, short-form video, and it's currently the best video creation platform.
Instagram has appeared disorganized. They've launched and killed off features. Decided to commit to full-screen scrolling videos and then, days later, decided against it after the Kardashians and other creators revolted.

Instagram's Stubborn Resilience
Despite the disorganization, Instagram is still a force. The platform brought in $51 billion in ad revenue in 2022, almost 5X TikTok's $11 billion in ad revenue last year.
There are signs that even Gen Z is still engaged on Instagram. A North Carolina State University report found 90% of Gen Z use Instagram daily, and 70% use TikTok daily.
Another Instagram advantage is that its users build more personal and local connections than TikTok.
While TikTok is constantly fighting to stay in the good graces of the US and other governments, Instagram is much less likely to be banned in most countries.

Meta's Big Moves
TikTok is the cool kid in school. It's defining culture. And it's winning on "time spent."
Meta knows they're losing the upper hand to TikTok. They see the crazy engagement numbers on the wall. And they're making some changes.
Last week Meta laid off 10,000 employees and took down 5,000 open positions. Adding to the 11,000 team members they let go of in late 2022. That's almost a quarter of the company gone in a few months.
Smaller projects are being killed off in favor of focusing on a few big goals, including:
An AI engine (to run all their social algorithms)
Short-form video
Ad revenue from short-form video
Messaging revenue (Messenger, WhatsApp)
The Metaverse
Those first three look a lot like a company trying to become TikTok. TikTok's parent company, ByteDance, is an AI company that started a social network. Meta is a social network that needs to build a better AI engine.
If Meta transitions Instagram into a TikTok clone, dedicated to full-screen videos, they risk alienating billions of users.
But what choice do they have? Meta has been unable to launch a new social app from scratch since their founding. And the US government will not allow them to acquire a TikTok clone.
Meta knows it needs better AI. And they know they need a TikTok clone.

TikTok's Algorithm Advantage
The algorithm is the main difference between how TikTok and Instagram work as social networks. TikTok is pure egalitarian. Every video has an equal chance of going viral. That's a great business case for Tiktok.
Users view TikTok as entertainment. Visiting explicitly for video content that entertains. It's culture, art, music, and humor. Also, users never have to follow accounts to view that content. TikTok learns everything about you from the videos you watch.
Users view Instagram as more personal. It's where users find friends and close contacts. They follow more local accounts. It's where they find news more relevant to their lives. This same system also closes users off from discovery. They do not find as much new content and new creators.
Reels are also not the main draw on Instagram. According to the WSJ, TikTok users spend 198 million hours watching content, while Reels viewers spend 18 million hours (less than 10%).
TikTok doesn't need you to follow, like, or comment to provide this high level of engagement. They simply show new users videos of various topics and learn what their interests are based on watch time. Did you watch that video twice? Did you quickly skip it? Did you share or download the video? These are all big signals.
Some tests have shown TikTok can learn your interests in less than 40 minutes.
Meanwhile, I posted a few Instagram Stories about skiing, and now all I see on Reels is skiing. Don't get me wrong, I like that content, but TikTok knows more about our varied interests, even if we never post to their platform.

Is It Risky To Invest In TikTok?
Meta knows they need to replicate the power of TikTok's system, and they're hoping governments will ban TikTok to give them a leg up. There is a chance of that.
But the reality is, whether ByteDance owns it or not, TikTok is the future. Either TikTok survives as is, or Meta comes along and replaces TikTok with something that looks very similar.
Learning how to build content on TikTok will make your brand better at the fastest-growing content medium in social today. Those skills can transfer to Reels or even YouTube Shorts. Or whatever comes next. You can cross-post content. You can repurpose it for other channels.
But you can't learn what will work on TikTok without focusing there.
TikTok is winning the battle. And while Meta has no big wins against TikTok (yet), they're still in the fight.

Brand TikTok Tips
Creating content that truly connects with your audience can be a struggle.
When we work with clients or in our live cohort training on social video, one of our main goals is to create a sustainable content process.
I'll leave you with two helpful tips…
1. Discovery Through Quantity
Quality content is always the end goal, but the key to TikTok is learning what topics and formats land with your audience. This takes a lot of testing.
Test at least 10 unique ideas each month for 3-6 months without expecting engagement. This is your discovery phase to get a better idea of what your audience wants.
This content can be quick and dirty. Go for a variety of formats and topics.
2. Search For A Show
While browsing TikTok, and during your discovery phase, keep an eye out for show concepts. These are content templates you can repeat. Serial content can grow an audience, improve over time, and increase efficiency.
Not everything needs to be a show, but shows build an audience.