Originally published on TheCommunityManager.com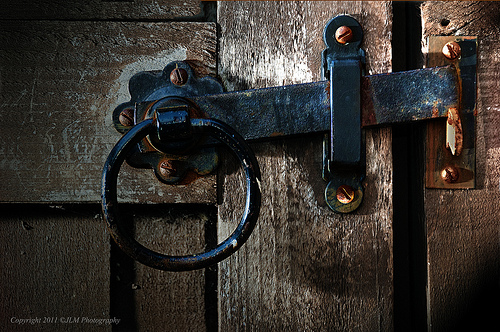 Recently I spoke in detail about the theory originally developed by McMillan & Chavis detailing the "sense of community". The concepts that make up a strong community and why members join or stick around.
The first of four factors that help define a successful community is Membership.
In my experience as a community builder, keeping my communities private has always made for stronger results.
I'd control membership in my communities by making them private, invite only, referral based or by simply creating a strong culture that discourages people who don't fit from remaining.
As a result, the members who would join would feel special because they're a part of something that others aren't. Relationships between members would be stronger and they'd be more likely to contribute.
Sure enough, digging into the psychology of communities, I've learned that this is a concept well known in social psychology.
"Membership is a feeling that one has invested part of oneself to become a member and therefore has a right to belong" (Aronson & Mills, 1959; Buss & Portnoy, 1967).
In their popular research into the "sense of community", McMillan & Chavis considered "membership" to be one of the four main factors that create a healthy community. They summarized this aspect of their theory:
"To summarize, membership has five attributes: boundaries, emotional safety, a sense of belonging and identification, personal investment, and a common symbol system. These attributes work together and contribute to a sense of who is part of the community and who is not."
Let's dig into the five attributes. For each attribute I'll quote from the research conducted by David W. McMillan and David M. Chavis, then we'll analyze it a bit further:
1. Boundaries
"Membership has boundaries; this means that there are people who belong and people who do not. The boundaries provide members with the emotional safety necessary for needs and feelings to be exposed and for intimacy to develop" (Bean, 1971; Ehrlich & Graeven, 1971; Wood, 1971).
This is why when you're a kid, the girls aren't allowed in the boys clubhouse and you had to know the password to get in.
This is why in high school you were either part of the cool crowd, or you weren't.
This is why you have to be invited to join a fraternity or sorority.
Creating boundaries creates a definition of who can be a part of a community and who can't. Sucks for those who can't, but for those who get in, it creates the opportunity for stronger bonds.
If you've ever tried to build a completely open community and found that the conversations deteriorate into shallow, meaningless discussions, this might have something to do with it.
"Social psychology research has demonstrated that people have boundaries protecting their personal space. Groups often use language, dress, and ritual to create boundaries. People need these barriers to protect against threat." (Park, 1924; Perucci, 1963).
2. Emotional safety
"Emotional safety may be considered as part of the broader notion of security. Boundaries established by membership criteria provide the structure and security that protect group intimacy. Such security may be more than emotional; gangs, for example, provide physical security and collectives enhance economic security" (Doolittle & Mac-Donald, 1978; Riger, LeBailly, & Gordon, 1981).
The concept of emotional safety has been HUGE in some of the more successful communities I've been able to help build.
Boundaries help create emotional safety because when members know who's in the community and why, it creates trust and an openness in conversations.
The healthiest communities I've built and been a part of are ones where members feel comfortable sharing personal issues that they wouldn't feel comfortable elsewhere. They're able to open up, creating an opportunity for meaningful conversations and for stronger bonds to form amongst members.
Members should feel safe in their community, which is why trolls are truly dangerous. They might make members feel unsafe.
3. A sense of belonging and identification
"The sense of belonging and identification involves the feeling, belief, and expectation that one fits in the group and has a place there, a feeling of acceptance by the group, and a willingness to sacrifice for the group. The role of identification must be emphasized here. It may be represented in the reciprocal statements "It is my group" and "I am part of the group."
Both boundaries and a sense of emotional safety will ensure that members feel a sense of belonging.
We all know that feeling. That feeling of acceptance, of knowing you're in the right place, surrounded by the right people.
Making sure your members have a voice is important to make sure they feel like they can honestly say "this is my community". If they truly feel like they've had a hand in making the community what it is, then they will inevitably identify with that community.
---
---
4. Personal investment
"Personal investment is an important contributor to a person's feeling of group membership and to his or her sense of community. McMillan (1976) contended (a) that working for membership will provide a feeling that one has earned a place in the group and (b) that, as a consequence of this personal investment, membership will be more meaningful and valuable.

This notion of personal investment is paralleled by the work of cognitive dissonance theorists (Aronson & Mills, 1959; Festinger, 1953). For example, the hazing ritual of college fraternities strengthens group cohesiveness (Peterson & Martens, 1972). Personal investment places a large role in developing an emotional connection (such as in home ownership) and will be considered again."
Most experienced community builders have seen this concept first hand. When members contribute to the community, or make sacrifices for the community, the community is healthier and the member feels a stronger bond with that community.
Think about any community that required contributors: Wikipedia, Instagram, Facebook…
Every contribution from a member is important because they're investing their time and brainpower.
Nir Eyal also speaks about "commitment" as the final requirement to build a habit and manufacture desire.
"The commitment implies an action that improves the service for the next go-around.  Inviting friends, stating preferences, building virtual assets, and learning to use new features are all commitments that improve the service for the user. These commitments can be leveraged to make the trigger more engaging, the action easier, and the reward more exciting with every pass through the desire engine."
We can clearly apply this idea to communities. By creating content, inviting more members or taking any other relevant action that improves that member's experience within the community, you increase the odds of the member coming back again.
Now if you can create a process where in order to even join the community, a member has to make a personal investment (like pledging fraternities, converting to religions, applying to schools, etc), you can create strong bonds between members.
5. A common symbol system
"A common symbol system serves several important functions in creating and maintaining sense of community, one of which is to maintain group boundaries… Understanding common symbols systems is prerequisite to understanding community. "The symbol is to the social world what the cell is to the biotic world and the atom to the physical world. . . . The symbol is the beginning of the social world as we know it" (Nisbet & Perrin, 1977, p. 47).

Groups use these social conventions (e.g., rites of passage, language, dress) intentionally…to create social distance between members and nonmembers (McMillan, 1976). Bernard (1973) mentioned that black leaders used symbols to unify the black community and defy the white population (e.g., Black Power, clenched fist), and Park (1924) offered a rationale for this strategy… On the national level, holidays, the flag, and the language play an integrative role, and, on a broader scale, basic archetypes unite humankind (Jung, 1912)."
We see symbols as a representation of communities everywhere, online and off.
Sports teams wearing the same uniforms, military symbols, badges on your blog, your job title, the way you dress… All of these things are symbols that bond people to others who wear the same symbols.
We see this used in online communities a lot with swag: tshirts, stickers, pins…anything to give your community that they can wear to let people know they're a part of this community. It serves to bond the people in the community as well as create envy amongst people who are not.
If people are truly proud to be a part of your community, think about how you can give them symbols to represent that.
But just giving them a symbol without first having in place all of the other pieces that contribute to membership and a sense of community won't get you results. Symbols only work when they represent an existing dynamic of reputation and community.
—-
Have you seen these factors contribute to a sense of membership in your communities in the past? Have you felt a sense of membership in yourself toward any communities you have experienced before?
Photo Credit: JLM Photography. via Compfight cc