With the $1 billion acquisition of Instagram and the meteoric rise of Pinterest, it's become clear that marketers are paying more attention to images and how they are shared online.
But how might a brand use images to encourage follower feedback, promote social sharing, and drive Web traffic?
These ten tips are a solid place to begin or to review current photo posting strategies.
1. Keep It Current
Think of what people are talking about RIGHT NOW. Have your photo join the conversation.  If you need a clue on hot trends of the moment, go to the Pinterest Popular board or What The Trend site.
2. Tug At The Heartstrings (Or The Stomach)
If you'd like to schedule image-based posts in advance, consider perennial favorites like food, drink, pets or children.
3. Use Your Words
Try contextualizing or adding a touch of humor to your image by superimposing text. Tools like Picfont and ZipMeme Generator can marry image and text for you within a minute.
Elsevier's Chemistry  (client) Facebook page had stupendous results with this science-inspired joke coupled with the face of the character Howard Wolowitz from the CBS comedy "The Big Bang Theory."
How well do you think this post would've fared if the admin just featured Wolowitz's face or posted the joke without his mug?
4. Be Clear
Once you've thought of an idea for a photo and possible accompanying text, ask yourself: Is the quality of this photo and clarity of the text good enough for me to print it up and post it in my cube? If you answer yes, you're on your way to maximizing the sharing potential of your image. If not, either work on something more suitable — or hold off on engaging via images for now.
5. Give Link Love
If you have an amazing image on your blog or Website page, let your Facebook fans know. Link to it and give the image some extra real estate as the green gossip blog Ecorazzi did with their article on how to grow square watermelons.
6. Keywords ARE Key
Sure, descriptions are not the main draw of an image. But by adding strategic keywords to your image description, you increase the potential for new people to find you via search. On Pinterest and Instagram, use hashtags to optimize your reach.
7. Call For Engagement
After composing a search-friendly description, add a sentence or question to encourage viewers to like, comment, or share the post. Might Pinterest's commenting rates be so low because so few pinners encourage or come right out and ask for comments? Be one of the brave ones and prompt discussion.
If you plan to post image to drive Website traffic, provide an URL and suggest that followers click through for more information or to purchase.
8. Size Does Matter
Currently Pinterest allows for unlimited length, which many marketers have used for great results. As an end user, I am often not motivated to scroll through long infographic and how tos. But I took a test drive and pinned a long image on 25 animals doing yoga poses. This also made good use of points #2 and #3 above — but its lanky size seems to be the most likely catalyst for an incredible 333 repins and 88 likes. (I typically average 1 repin and 1 like per pin.)
On Facebook, photos can go up to 403 pixels high. Regular and pinned posts do not get resized you post an image taller than 403 pixels — so unless decaptiation is intriguing to your fans, keep to the height guidelines.
9. Crowdsource
Not feeling so "artsy?" Get by with a little help from your Facebook fans. Earlier this month, BlogWorld Expo held a "community meme party" with its fans. They posted a photo of speaker Jason Falls (after getting his permission) and asked their fans to create a meme or joke with it.
This example from Christopher Penn gives you a sense of the collective fan creativity and hilarity that ensued.
10. Don't Dismiss Twitter
Although Twitter is based primarily on text messages, followers appreciate a change of scenery.  What text-based tweet could tap your taste buds like this photo of fresh cupcakes from Portland, Oregon's Sweetpea Baking Company?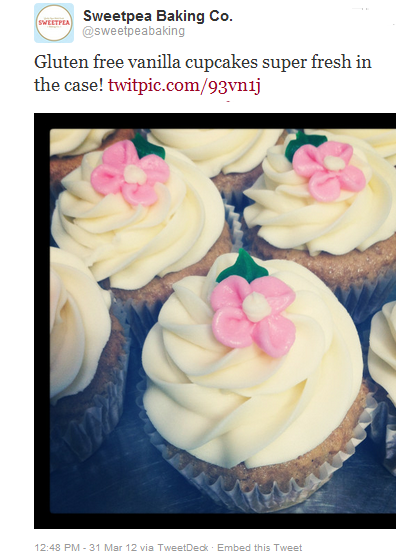 How has your business fared in using imagery to promote social sharing and engagement?