If you visit the "Humor" section of Pinterest or just browse Facebook for a while, you're likely to stumble across fist-pumping babies, grammatically incorrect cats or a poorly-sketched angry stick figure. Believe it or not, there's actually a great deal of marketing potential behind these silly viral memes.
A "meme" is a categorization of a cultural trend or truth, a unit for communicating and collectively sharing cultural ideas through words, symbols and pictures. This may sound fluffy, but chances are, you've already experienced and participated in internet memes.
Trending hashtags on Twitter (#followfriday, #SXSW, #winning), FAIL photos, S#*! My Dad Says, planking, and the LOLcats language are all examples of this internet phenomenon. Memes are a framework for people to express their ideas in a collective messaging format. Once a meme is hot, anyone can jump on the bandwagon. Marketers are always hoping that their YouTube video "goes viral," right? Memes are an opportunity to be a part of a viral movement that already exists!
How Companies Can Capitalize on Memes
Like competitors or industry trends, social memes should be closely monitored for potential opportunities. You know your customers and prospects better than anyone else. Use the meme as a tool to connect with your audience and show that you understand them.
1. Include a Call-to-Action
The New South Digital Conference, a marketing conference in South Carolina, capitalized on one popular internet meme to show understanding and humor about their marketing professional audience. Their S#*! Marketers Say video has over 3,500 views and, most importantly, includes their website and call-to-action both in the video and below it.  It's very clear who created this video, and it provides plenty of opportunity for the viewer to learn more about them.
As with any marketing content, your company's participation in a meme should offer value to your audience and communicate a message about your brand. Whether it makes your audience laugh and builds a stronger relationship with them, or communicates values they can agree with, connection with your audience will determine the success of a meme.
2. Make it Sharable
Memes should be specific enough to speak to a target audience, but general enough to be applicable to a good percentage of your social media followers and their networks. HubSpot's marketing spin on a popular meme earlier this year received over 1,600% more Likes and 1,650% more shares than their average photo post on Facebook (444 Likes and 325 Shares). Four Facebook users tagged themselves as the people in the photo, an indication that the meme was extremely appropriate for the audience.
The photo was popular because the meme was still hot, HubSpot's followers were directly targeted, and the message was in line with company messaging.
3. Choose (or Create) Memes that Align with your Brand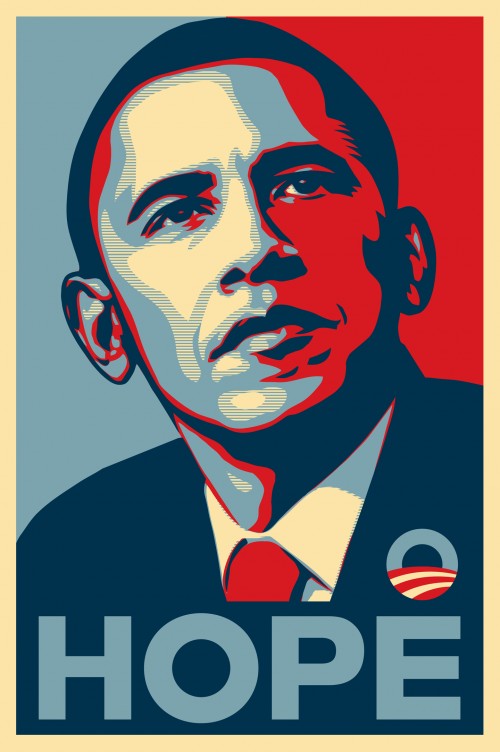 In 2008, stencil artist Shepard Fairey published his iconic poster of presidential candidate Barack Obama with the word "HOPE" printed below it. According to Fortune Magazine, the Obama campaign did not commission the creation of the original poster, but after it went viral they officially endorsed it. The meme was aligned with Obama's political platform and especially spoke to a younger demographic. It quickly became a recognizable symbol for Obama's campaign, and was inducted into the Smithsonian after his election, all because the team successfully capitalized on a trending meme.
The Obama campaign chose an appropriate meme to own and expand upon because it aligned with their campaign messaging. A government-endorsed LOLCats image probably wouldn't have had the same appeal.
4. Realize that Memes are Temporary
Remember that memes have an expiration date. They are often shared to the point of exhaustion. Marketers need to understand this inevitable extinction and capitalize on memes early. A meme can position a brand as hip and relevant or annoying and outdated, depending on the meme's stage in the life cycle. In 2010, a New York University graduate student developed a charting system for tracking internet memes, in order to help journalists capitalize on the hottest stories.  While a mathematical system may not be necessary for marketers, keeping tabs on trending topics is crucial to your meme marketing success.
Use memes as a fun, viral way to develop you company's thought leadership and establish authority online, with the right audience and the right timing.
This post is authored by Kendal Peiguss, an inbound marketer at HubSpot.