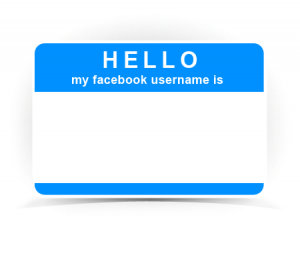 If you want to change your Facebook page's username and vanity URL, Facebook has a pretty good set of options and forms you can navigate to do so.
This was not always the case.
First let's be clear about Facebook's terminology.
Facebook Page Name
This is the text at the top of your page and next to your profile image in the news feed.
Facebook Username
This is the text of your actual vanity URL. It is not really a username that show up to anyone outside of  the web address of your page, but that is what Facebook calls it.
I'll cover how to change both, and when it comes to your username, depending on why you are changing it or if someone already has the username registered, there are a couple options. Here is a break down of the three sections below:
How to Change Your Facebook Page Name
How To Change Your Facebook Username
How To Claim A Trademarked But Already Taken Facebook Username
Let's get started.
1. How to Change Your Facebook Page Name
This is pretty simple. Click on "Edit" at the top of your page, then select "Update Info."
This takes you to the "Basic Information" section of your Facebook page settings. There are a ton of options on this page, but we are looking specifically for "Name" section where it will show your page's current name and there should be a "Request Change" link.
That link will take you to a simple form that allows you to enter the new page name, why you are changing it, and provide documentation to support the reason why you are changing it.
A few helpful points here:
You can only change your page name once, so be certain about the change.
This page actually says you cannot change your web address (username) but don't believe it, we will show you how.
Facebook asks that to speed up the process you upload a scanned image of the business name on a bill.
That should be a pretty easy process. If you are trying to change the name of your Facebook page to a completely different business or to a name that is not actually a business name that you can prove, you might run into issues. Facebook simply wants your page name to be your business name whenever possible.
2. How To Change Your Facebook Username
Changing your username is pretty simple as well.  Click on "Edit" at the top of your page, then select "Update Info" to get to the same "Basic Information" section of your Facebook page settings.
Towards the top you will see a "Username" section (pictured below) with your current page vanity URL if you have one and a link to "change username".
That link takes you to your universal username page which can also be found at http://facebook.com/username.
You can change your page's username here, if the new username and vanity URL you want has not already been taken.
A few helpful points:
This page has the same warning that you can only change this once. So make sure you get it right.
Make sure you have the right page selected if you manage more than one page.
Unlike the Facebook page name, usernames can only apply to one Facebook page or profile. So if the page you are after is already taken, you have to try something else (the next section should help you with this).
---
---
3. How To Claim A Trademarked But Already Taken Facebook Username
Sometimes the Facebook username you want for your page is taken. If you have the trademark for this page, then you can still claim the trademarked name as your Facebook page vanity URL.
Social Fresh, for instance has "Social Fresh" trademarked. So if we were not the first page (or personal profile) to try and claim Facebook.com/socialfresh, we would have to go through this process.
There are a few reasons the username you want might not be available.
A personal profile has already claimed it
Another page has claimed it
The requested name is too short, too long, or contains certain words Facebook does not allow
Facebook has a hold on it because it is a big brand name they have reserved
A previous employee at your company asked Facebook to reserve it before you had a page
If you have the username you want trademarked, your page can overcome most of these situations. If you are in touch with a Facebook rep, let them know about the situation first and see if they can help.
If you do not have a Facebook rep that you are in touch with, there is a form you will need to fill out.
Go to this form to start your trademarked username claim process.
Select that you have an inquiry related to trademark and fill out the required information from there. There are several options in the form according to your specific situation. You WILL have to enter your Trademark information at some point during this process, have it ready.
Have the following trademark information ready:
Trademark name
Trademark registration number
Country of registration (US preferred)
Describe how the reported Facebook page address infringes your rights
Phone number
Address
Once you enter all the appropriate information, and submit the form, Facebook will be in touch. It might take some time, even a month or two. So be patient.
Potential Issues
One possible caveat to being able to claim your trademark as a Facebook username is if someone else also has your trademark. Two companies can have the same trademark either in two separate countries or in the same country in two different industries. Facebook cannot do anything about this situation so you are unfortunately on your own.
For instance, Century 21 is both a department store and a realty company in the US. One has facebook.com/century21 and the other (likely registered at a later date) has facebook.com/century21stores.
Sometimes the best way to get your trademark is to be the first one to claim it on a new social network. This is not very helpful advice for Facebook, but in the future keep it in mind.