"It's like summer camp for people who live and breathe social media."
Social Fresh is the only social media conference built by and for social media practitioners
SOCIAL FRESH 2022 – Now On-Demand
WATCH THE REPLAY NOW
Become an
industry leader
on social
with innovative strategies from
social media pros
Fill a notebook with step-by-step strategies
because we don't allow
surface-level fluff
Find a network
of brainstorm buddies
thanks to our collaborative, community-focused spirit
Wish you could expand your creativity beyond just your own ideas?
Then you need to be at Social Fresh this year.
As a social media practitioner, there's constant pressure to keep your social media fresh, exciting, and effective.
And it can feel like the burden to do that is completely on your shoulders.
Whew. That's the recipe for imposter syndrome and stress.
Social Fresh is where professionals come to get reenergized about social media + find a solid network of other practitioners to bounce ideas off of.
Are you part of a social media team at your company? Attending Social Fresh together is the perfect way to bring in outside perspectives, make a bigger impact, and bond as a team.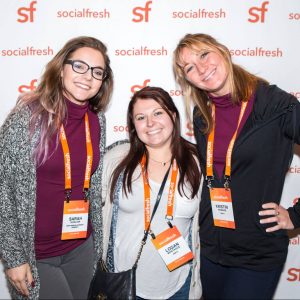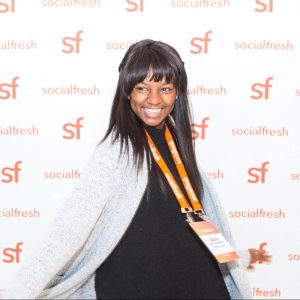 "It was great networking, but in such a welcoming, fun way; it was like finding your people…"
"I felt completely on fire that I got to meet a bunch of people who did the same thing that I did in a small setting. It was great networking, but in such a welcoming, fun way; it was like finding your people.
Social Fresh is like a social media summer camp for people who live and breathe this. There's definitely an air of — and I say this respectfully, because I'm one of them — people who are total social media nerds and want to talk about things that other people don't want to talk about with you.
It was also amazing to hear directly from the people behind the successful campaigns I'd seen on social. Because we might see that campaign and think, 'Wow, that's so cool,' but if you hear the story of how it really came together, it's really helpful."
ELENI MCCREADY
Senior Director of Media Promotions and Community, Lilly Pulitzer
If you can only attend one social media conference this year, make it Social Fresh.
28 conferences since 2009
The original social
media conference
Intimate & interactive
You won't be a "fly on
the wall" here
Tech-forward production
More "TEDX" than
boring lectures

Advanced SM topics
Finally, a conference built for social media practitioners

Hyper-relevant training
Every panel and training is focused on social media

Friendly and actually fun
Designed to facilitate
meaningful connections
"…the posts we created from that session are our highest engaging content out of the entire year. 100% of the idea came from that one session at Social Fresh."
"After the first Social Fresh conference we went to, I remember thinking, 'Whoa, we pretty much have takeaways from every speaker who stepped on that stage.' The content is not only really great, but the speakers walk through how you can do it yourself, so it's easy for you to bring back those strategies and start experimenting with them.
For example, there was a whole session on memes. We'd never done memes before, and the meme posts we created from that session are our highest engaging content out of the entire year. 100% of the idea came from that one session at Social Fresh.
The experience was also really fun, and it felt more intimate versus a huge conference where you're just a fly on the wall. The digital quality of what they put on was really nice, including multiple screens to look at the content. Maybe it was just that the content was that good, but it felt more fun than a lot of the other conferences I've been to."
AMANDA
Senior Vice President of Culture, Gate City Bank
Is Social Fresh the social media conference for you?
If you are a…
Social media manager looking to expand the reach of your company on social
Social media marketer or agency owner looking to bring innovative strategies to your clients
Social media strategist or consultant looking to stay on top of "what's fresh" in the industry
Company owner or corporate leader interested in diving deeper into social media
…then YES, Social Fresh is for you.
"It was very cool to meet people who did social media for recognizable brands or for the brands I personally admired…"
"Going to Social Fresh helps you to 1) ensure the track you're on is the right track and 2) get reassurance that the problems you're running into aren't specific to you – they're happening to everyone. It's also really helpful to hear how other people in the industry individually solved those problems.
There's a lot of networking with fellow social media professionals and this directly benefits you from a comradery aspect, but also from a problem-solving aspect. You get to know other people in the industry and can ask them 'Hey, I'm running into this problem, has anyone else experienced this?' And from there you can swap ideas and problem-solve together.
Ultimately, I had fun and the people were really wonderful. It was very cool to meet the faces behind recognizable brands on social media and talk to social media professionals from brands I personally admired."
ALEX FRITSCH
Social Media Manager, RVShare
Meet the team behind Social Fresh (you'll be seeing a lot of them!)
Hey, we're Jason and Nicole.
We're best known as the creators of the Social Fresh conference (aka the original social media conference and consultancy).
Before founding Social Fresh, we both worked in social media for brands and agencies — so, we know exactly what social pros are up against today.
Now, we're on a mission to make your job a little bit easier.
We can't wait for Social Fresh this year — hope to see you there!
Your questions, answered.
Where does the conference take place?
Social Fresh 2022 is taking at the Knight Theater in Charlotte, NC, USA. Sessions will kick off on the afternoon of Tuesday, June 21 and continue throughout June 22–23.
Is Social Fresh taking place virtual or in person?
Social Fresh 2022 is taking place live and in-person in Charlotte, NC, USA. Virtual tickets are also available for all 3 days. 
I'm not sure if this conference is right for me. Is this more for beginners or experts?
We work 1-on-1 with every speaker to craft presentations that anyone can learn from, whether you're newer to social media or you've been in the trenches for a decade. We reiterate what works, and we dive deep into the unique tactics our brand experts are seeing success with today.
How long will I have access to the Post-Conference Video Replay?
The length of video replay access is based on your ticket type:
– Virtual Pass [3 months]
– All Access Pass [6 months]
– VIP Pass [12 Months]